The Belyaevs from the Krapivinsky District became the best young family of Kuzbass – 2021. They will represent the region at the all-Russian competition "Family of the Year" in Moscow. Karina and Ivan are creative people, both work in the House of Culture in the village of Barachaty. They have two daughters growing up, Alice and Varvara. About how difficult it was to win the competition, what they so surprised the jury, about family traditions and the secrets of raising children, the correspondent of "AiF in Kuzbass" talked with Karina Belyaeva.
You don't have to get bored
Inna Sergeeva, AiF in Kuzbass: Karina, tell us about your family. Surely you have it special.
Karina Belyaeva: First of all, we are a creative family! My husband is the organizer of the Leader youth center, and I am the head of the Barachat House of Culture. Since my school years I have been a creative person: I played the guitar and drums in musical groups, sang and danced, participated in KVN. I am a teacher-choreographer by profession. Since childhood, my husband was more interested in sports, he worked as a carpenter, but after the wedding we left to live from the city to the country, and, probably, my love for creativity carried him away. Almost five years have passed since then, we have gained a lot of experience in our professions, discovered many other talents in ourselves. Our studies, various refresher courses and love for our work helped us in this. As the saying goes: "Find yourself a job where you won't work a day." This is about us, and we are very happy about it. Now we have a real creative duet.
We participate in various events taking place on the stage sites not only in the Barachatsky settlement, but also in the region, even the entire region, we conduct festive programs, transform into various theatrical and fairy-tale characters. We really like working in the field of culture: every day brings something new, you don't have to be bored.
– Are your daughters active too?
– Sure! The eldest Alice is six years old, and despite such a young age, for three years now she has been dancing, singing, performing at all concerts in the House of Culture and even touring. The youngest Varvara is four years old, but she has already caught up with her sister in growth and development, with the same enthusiasm she runs to work to her parents and is engaged in creativity, like our whole family.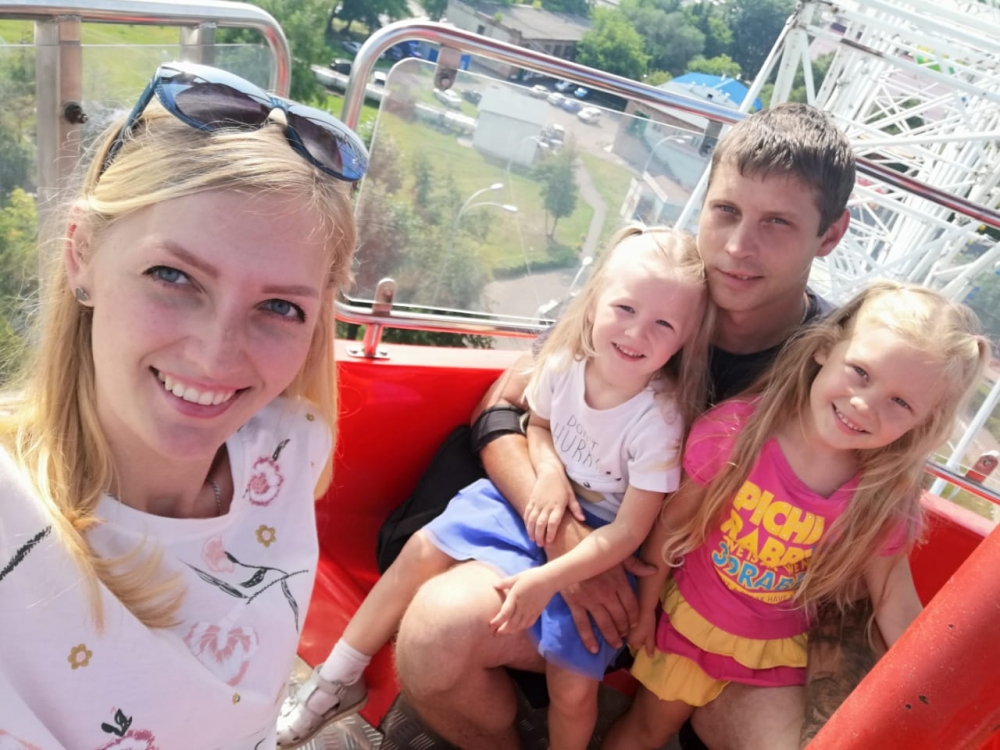 Relax and have fun
– Why did you decide to take part in the competition "The best young family of Kuzbass"? Were the tasks difficult for you?
– We are participating in the competition for the second time. In 2019, it was not possible to get to the final. This year they thought again: why not? Moreover, for the last year we have had such an opportunity – then we do not fall by age. We wanted to try our hand again, see how everything goes. We are interested in everything new. First, we won a regional competition that took place online. We passed the TRP standards and created a creative video about our family. We didn't expect to make it to the final. They did not prepare for it for long – we finished it in two days. It was necessary to edit a new video about how the day goes in our family, and prepare a creative gift for the 300th anniversary of Kuzbass. The final has already taken place in Tomskaya Pisanitsa, where five families competed. It was necessary to overcome three competitions: intellectual – to answer questions about Kuzbass, tourist – for example, to lay a fire, tie a knot and endurance competition – dads squatted with a heavy stone, mothers milked an impromptu cow, and children took part in sports relay races. Towards evening, each family told about themselves from the stage and showed a creative gift from the region. It was not difficult for us! We went just to relax, have fun, have a good time.
– Why do you think you became the first? What hooked you on the jury?
– All families performed with dignity, each had its own flavor. But only we had a live sound: we brought musical instruments with us: drums, bass, rhythm and solo guitars. We composed and performed a song about each member of the family and a composition for the anniversary of Kuzbass. Perhaps this played a role.
– Karina, each family has children of different age. How did you compete with each other? Equally?
– Let me tell you a little secret: their own children do not participate in the competition, each family invites those involved. It was supposed to be a boy and a girl of 9-10 years old. We had two kids from our village.
– What are the requirements of the Russian competition? What are you cooking?
– It will be held online. We have prepared a presentation and a video about our family, in which we talk about our traditions and family values. We were also asked to make copies of documents for all awards, diplomas, certificates. We do not think about victory: if we win, we will rejoice; no, it means not destiny.
– What were you given as winners?
– We were awarded a certificate for 100 thousand, children – a dollhouse and a constructor, attracted children – a backpack and a real quadrocopter!
Bake pancakes and be bullies!
– Tell us about your family traditions.
– Like all parents, we dream that our children will grow up to be good people. We try to develop them in different directions and teach not only them, but also ourselves.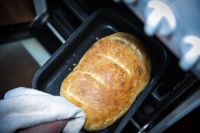 For example, our dad learned how to cook wonderful pancakes so that the children could later learn this recipe and make them on their own. Now our family has a tradition: pancake weekend. Every day, before going to bed, I read different fairy tales or poems that my daughters remember with pleasure and incredible speed. Since my husband is the "leader" of the volunteers, our whole family is keeping an eye on the cleanliness of our village and we go to subbotniks every week. We live as a big family – with our grandfather, and therefore family traditions are not just words for us: every day we learn to do what our relatives did almost 50 years ago. We cook pickles for the winter in different ways, homemade compotes from fresh berries. We love to spend time together, especially in nature, and if we still manage to swim and fish, it's generally great!
– Do you teach children to work?
– We all know that work unites; children are still small, but they are already learning to plant, water, dig and weed. Our garden is a place where everyone works, but while everyone is working, you can sing songs or teach poetry, the children really like it. But the most interesting thing begins when our pets come to us from all parts of our yard, gathering in a friendly company: the cat Lunya, rabbits, chickens, from their houses are sucking the song of quail, and even piglets strive to jump out of the pen to join us.
– What is the main rule of your family?
– This is respect for each other and for the work of other people. It is impossible to build a normal family without respect. You need to love and appreciate each other, do not rush to break off the relationship, if suddenly something is wrong. After all, as often happens – young people met, got married, problems arose, and, instead of solving them, the couple dispersed, not trying to understand each other. What if this was your destiny and you will never meet such a person again? Why should you listen to the advice of a girlfriend or friend, and not your heart? All problems are only in our head, and their solution depends on us.
– How do you bring up children? Do you spoil or, conversely, do not give slack?
– We, as parents, are different: we can both regret and pamper, but at the same time demanding. My husband and I work with children and we understand very well: if we do not demand, we will not get the result.
– Now the main problem of children is dependence on gadgets. How to distract from phones and computers?
– Parents need to find time and spend it more often with their children. To remember that they were once small too, played in the same way in the yard, swam, ran, hooligans. Get together and, for example, go all together to the lake, tell the children how you dived from that stone, how you fished on that bank, and hid in those bushes. Surely they will be interested! And also give the children more freedom: let go with friends, into the street. Let them sit at home as little as possible.
Karina Belyaeva was born in 1991, Ivan Belyaev in 1988. Daughter Barbara is 4 years old and Alice is 6 years old. They live in the village of Barachaty, Krapivinsky district. Winners of the regional competition "The Best Young Family of Kuzbass-2021".
.