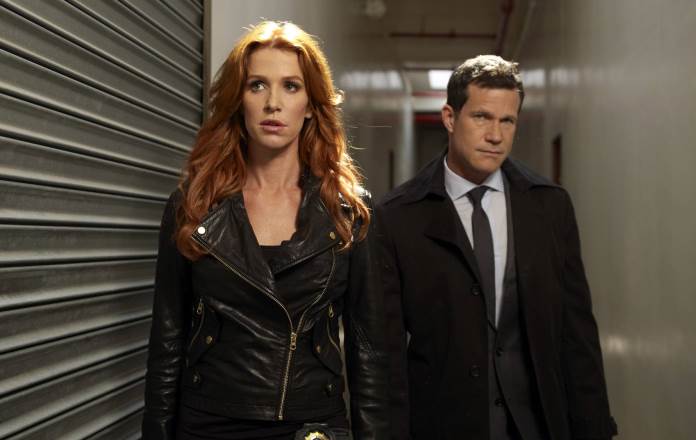 – Advertising –
Unforgettable, two episodes of the first season aired Wednesday, June 9, 2021 at 9:10 pm on Giallo.
Wednesday 9 June 2021 its Yellow, continues the weekly appointment with the series Unforgettable, an American TV series created by Ed Redlich and John Bellucci with Poppy Montgomery as the protagonist. The series has already aired in Italy on FOX Crime and then free-to-air on TV8 a few years later. Two new episodes of the first season will air tonight at 21:10 on Giallo (channel 38 on digital terrestrial and 167 on Sky).
Unforgettable is made up of 4 seasons, the first of 22 episodes, and the following 3, consisting of only 13 episodes. The series is expected to be re-released entirely on Giallo every Wednesday, with two episodes per week. Here are the plots of the episodes aired tonight:
Unforgettable, plots of the episodes aired on June 9, 2021
1 × 17 – Dead End – The father of a suspect, whom Roe had to kill, has taken members of Queens PD hostage, including Nina, in revenge. Al and Carrie are forced to step back and leave everything to a negotiator.
1 × 18 – The Return – Carrie is the stranger who keeps calling her they will find themselves playing cat and mouse when Al and Carrie have to deal with a theft case that has resulted in a murder. The victim is a young woman, a tennis player, who was about to return to the court after a serious injury. The prime suspect appears to be a candidate for the local congress.
Where to stream? When are the reruns?
The first season of Unforgettable will be visible in live streaming on discoveryplus.it (or through the App on the App Store or Google Play). We do not know if the episodes broadcast tonight will remain on-demand even after airing, we recommend checking the page dedicated to the series. The replicas of the two episodes broadcast tonight will be broadcast Sunday 13 June 2021 at 5:10 pm always on Giallo.
Cast
Poppy Montgomery is Carrie Wells
Dylan Walsh it's Al Burns
Kevin Rankin is Roe Sanders
Michael Gaston it's Mike Costello
Daya Vaidya is Nina Inara
Jane Curtin is Joanne Webster
– Advertising –