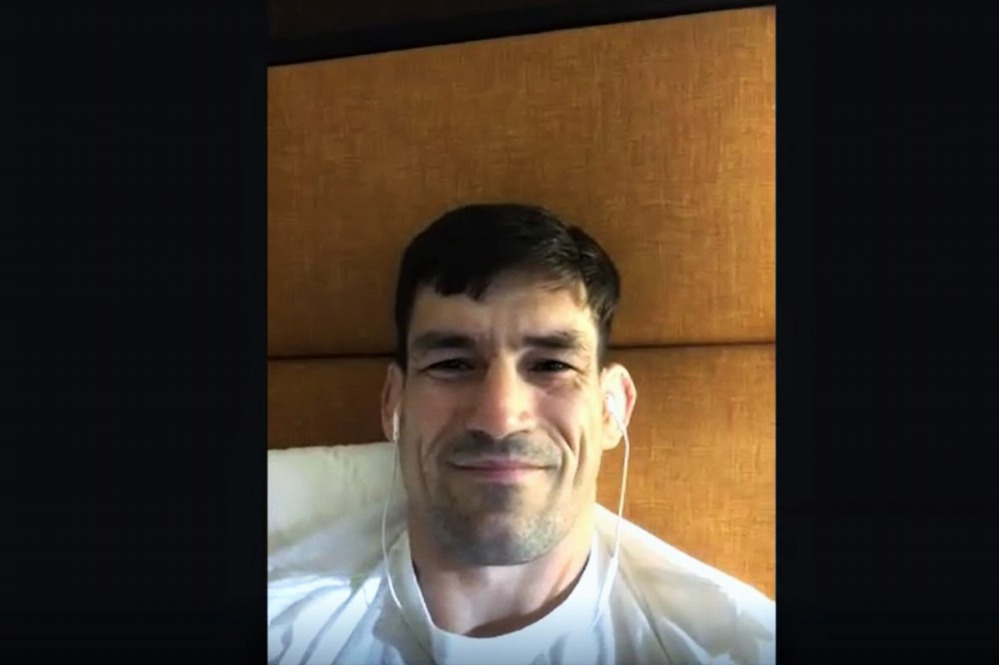 [Photo]Demian Maia (C) MMAPLANET who declared that she was thinking of retiring without a pandemic
UFC 263 "Adesanya vs Vettori 2" will be held at the Gila River Arena in Glendale, Arizona on Saturday, 12th (local time).
UFC World Middleweight Championship = Champion Israel Adesanya ✖ Challenger Marvin Vettoli, UFC World Fly Championship = Champion Davison Figueiled ✖ Challenger Brandon Moreno, and Neither the first title match in UFC history nor the main 5 Demian Maia will face Belal Muhammad in this tournament, which is packed with notable cards, such as the Leon Edwards ✖ Nate Diaz welterweight match, which takes place in the minute ✖ 5R system.
Demian, who has been fighting for the first time in 15 months since losing to Gilbout Burns in March last year, has turned 43 during this time. Demian Maia, whose fight on Saturday will be the final match against the UFC, has declared that the future will be clear after the match against Mohammed.
──The match between Demian and Belal Muhammad is approaching. How are you doing now?
"It feels really good. It's really good. It's been well adjusted. I've been doing well since I entered Phoenix."
──This is the third tournament since the pandemic.
"It's great. It's great to have fans at the venue. I think it's sad to play in front of a TV camera in a venue without fans. I've only fought in front of a lot of fans so far. I have never done it.
It's been 14 years since I started fighting in the UFC in October of this year, and I've always played in the arena, which is full of fans. The voices of each and every fan help me. With the presence of fans, my fight is successful. So I'm happy to be able to play in front of Arizona fans in the same situation as before the pandemic. "
── After losing to Dulinho in February last year, a pandemic broke out shortly afterwards and the UFC entered a period of inactivity. Still, the show resumed two months later, but Demian didn't return to the cage for 15 months. During this time, I also thought that I might have decided to retire. Of course, I can't say anything about Demian's decision, but I really wanted to see Demian's game in the other game.
"I'm glad to hear that. To be honest, I've been thinking about retirement before the pandemic. This is the last fight on the contract. Probably the last. How much performance can I show in the match? What do you think and how do you feel when you finish the match?
I believe that I can make a move that will satisfy everyone. But no one really knows what will happen in the match. Do you still want to fight another match? Do you want to fight two more games? It all depends on the match on Saturday. "
──Isn't Corona's influence on such a match? Sadly, bad news has been coming from Brazil all the time.
"Brazil is the same as the United States, and although it has a large land area, the population is concentrated in the city. Like São Paulo, where I live. Fortunately during the misfortune.
Many people who lose their lives have underlying illnesses or are elderly. Athletes like us are healthy by nature, so even if our practicing companions and acquaintances became positive, they did not become seriously ill. However, it was full of people with financial problems.
Regarding practice, professionals are also able to practice in groups in São Paulo today. The gym remains closed to the public, but we've been practicing as usual.
So sparring and mitting were fine. However, for weights and physical training, the gym I usually use was closed, so I had some problems such as finding a different place. It's not without the influence of Corona, but it wasn't a big deal. "
── At the age of 43, I think you've been asked the same questions, but I can't help but ask Demian about the changes in mental and physical aging.
"Everyone will become mentally weaker and physically weaker with age, but I never feel that during practice, so I thought I'd fight again. I can't fight anymore if I feel depressed or weakened. I feel like I can still fight because the quality of my training hasn't deteriorated.
To be honest, I have a lot of work to do other than fighting the game. I still want to fight because I'm practicing and I'm not feeling weak.
If you feel weakened by practicing with a teammate younger than you, I will concentrate on teaching, seminars, gym management, expanding the gym, and so on. I'm sure I'll come to that day, but I haven't come yet.
And when it comes to mentality, the older I get, the stronger I get. On the other hand, you may feel tired. I've been doing one thing for so long. The desire to do other things also grows. In that respect, it was good that a pandemic occurred and I couldn't play for more than a year.In short
During this time, I practiced, continued to learn new things, and learned. And I understood how much I wanted to fight. By practicing Jiu-Jitsu, I also discovered that there are movements that can be used in MMA. Well … Still, if you give a sign that your body is the limit, these fun days will end. "
■ Viewing method (planned)
June 13 (Sun / Japan time)
7:00 am-UFC FIGHT PASS
11:00 am-PPV
11:00 am-WOWOW Prime

■ UFC 263 Battle Card
[王者] Israel Adesanya (New Zealand)
[挑戦者] Marvin Vettori (Italy)
[王者] Davison Figueiredo (Brazil)
[挑戦者] Brandon Moreno (Mexico)
Leon Edwards (UK)
Nate Diaz (USA)
Demian Maia (Brazil)
Belal Muhammad (USA)
Paul Craig (USA)
Jamahal Hill (USA)
Drew Dover (USA)
Brad Riddell (New Zealand)
Eryk Anders (USA)
Darren Stuart (UK)
Lauren Murphy (USA)
Joanne Calderwood (UK)
Hakim Daradu (Canada)
Movsar Evloev (Russia)
Pannie Kianzad (Sweden)
Alexis Davis (Canada)
Matt Frevola (USA)
Terence McKinney (USA)
Steve Paterson (USA)
Chase Hooper (USA)
Ferres Ziam (France)
Luigi Vendramini (Brazil)
Carlos Filippi (Brazil)
Jake Collier (USA)