Table of contents
ーVolkswagen, M. Benz Japan exhibited
ーWagon Body to Japan in the first half of 2021
ー4 golf bags sideways
ーNew S Class S 400 d 4 Matic Long
Volkswagen, M. Benz Japan exhibited
text: Wataru Shimizudani
"Japan Golf Fair 2021" opened at Pacifico Yokohama on March 12th (Friday).
The main exhibitors are golf-related companies, but there are also several car makers that are indispensable for going to golf. One of them is Volkswagen Group Japan (VGJ).
VGJ has been strengthening its activities for golfers since 2017, and has launched the "Volkswagen Golf Club" on its official website to propose a lifestyle with golf.
At this Japan Golf Fair 2021, we will exhibit a booth jointly with Ping Golf Japan, the Japanese subsidiary of PING, which has been collaborating since 2017.
PING is a world-renowned golf club maker based in Phoenix, Arizona, USA. It is used by many professionals such as Hinako Shibuno, a female professional golfer who won the 2019 British Women's Open.
Wagon Body to Japan in the first half of 2021
Both Volkswagen and PING continue to collaborate because they have a long-established but casual atmosphere in the industry and have a common development concept of "making products that are easy for anyone to handle."
VGJ provides vehicles such as Sharan for the staff of Ping Golf Japan who maintain the club on tournament tours.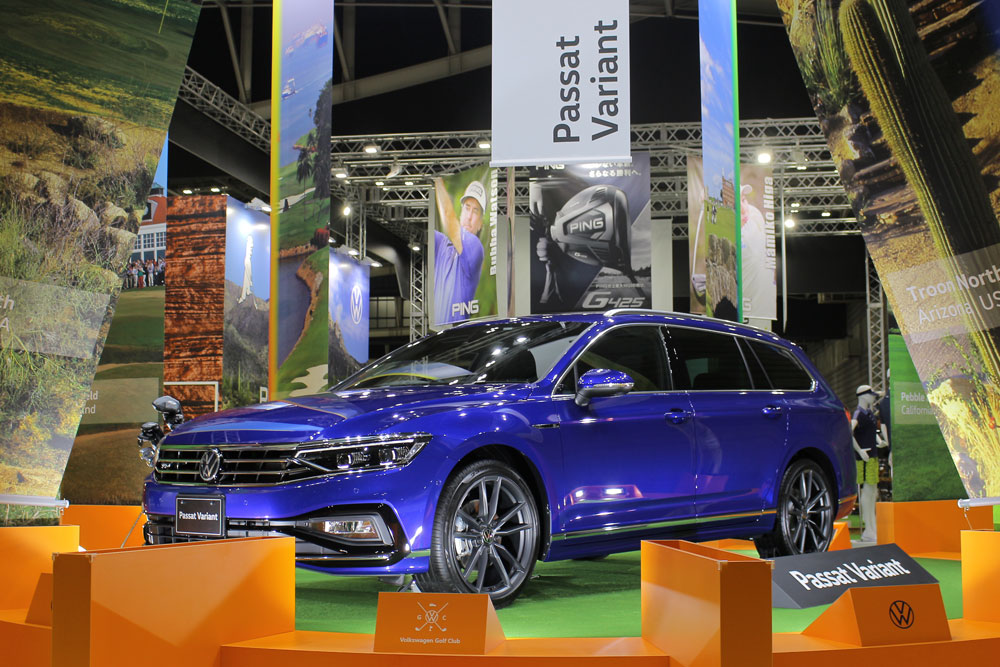 By the way, this time VGJ was expected to exhibit the new "Golf" at the golf fair, but unfortunately that did not come true.
Nevertheless, the "Variant (Japanese specification)", a wagon model of the improved new Passat that will be introduced in Japan in the first half of this year, graced the main stage as a reference exhibit.
4 golf bags sideways
Although it is a conventional minor change version, the interior and exterior designs have been changed, such as by adopting the new VW mark.
Rivals will be D-segment imported wagons such as the Mercedes C-Class Wagon, the BMW 3 Series Touring and the Audi A4 Avant.
Perhaps the Passat Variant's advantage is more affordable and more capacity than its rivals.
It is one of the best transporters for golf because it can stack four golf bags for long clubs sideways even when riding fully.
Image Passat Variant, Benz new S class[Japan Golf Fair]71 sheets in total
.