As a young woman tried to end her life, firefighters brought their therapy dog ​​to the scene. The intervention of the canine was decisive and allowed to save the life of this person.
The initiative of the fire and rescue services Devon and you Somerset, in the South West of England, was instrumental in this week's rescue of a woman. The idea was to offer him to meet their therapy dog, as reported by the BBC this Wednesday June 16.
The day before, at the end of the morning, the police Devon and Cornwall received an urgent call about a young woman who was trying to end her life. She was standing by the edge of a bridge crossing over the highway M5 in the county of Devon.
Police and firefighters quickly went to the area to intervene. Negotiators have contacted the person, but the talks did not appear to be moving in the right direction. What unblocked the situation was the arrival of Digby.
"She immediately turned her head to look at Digby and smiled"
This is the firefighter's therapy dog. This Labradoodle has been helping them recover from their trauma since 2018. His very presence changed the situation during the suicide attempt, as explained by the rescue center of Devon and you Somerset : « When Digby arrived, the young woman immediately turned her head to look at him and smiled. This sparked a conversation about Digby and his role in the rescue service. ».
Read also: A dog stranded in a shelter for 11 years finally finds a new family!
Firefighters and police then asked her if she wanted to spend some time with the quadruped, which she agreed to. After being taken to safety shortly after 3 p.m., she therefore joined Digby who comforted her as he knows how to do so well.
Like thousands of dog owners, take out health insurance for your 4-legged friend! The quote is personalized, it is fast and free. Don't wait for a accident or a serious disease to your dog!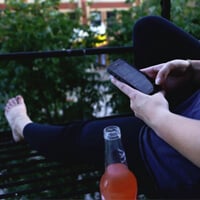 If you love your dog, do like thousands of dog owners, protect it by filling out this form to discover our offers (free) !

Related articles
.