Quiet street in the village of Krasnoturansk, Krasnoyarsk Territory. The house is buried in greenery, all the locals know it. A professional artist, poet, author and performer of songs, teacher and craftsman, honorary citizen of the village Valery Emelyanov has been living and working here for 45 years.
Shovel Guitar
Mysterious painting on the walls in the house: a wonderful plant that resembles a woman's face. A story about an unusual Himalayan flower comes to mind, which once every 20 years turns into a silhouette of a girl. The owner of the house leads to his studio, filled with paintings. For the most part, these are native landscapes.
But the first thing that Valery Mikhailovich demonstrates to the guests is an electric guitar with a surprisingly piercing sound, made from an ordinary shovel, a mesmerizing glucophone from an old gas cylinder, reproducing enchanting, like cosmic sounds. In the eyes of a whitened gray-haired man, a truly boyish enthusiasm suddenly flashes when he picks up a kalimba that looks like an old music box. "This tool was recently made. Hear how it sounds, it gives out all the notes correctly. I am not trained in musical literacy, I myself select notes, music, and write songs for myself, for friends, for the soul. My mother, Antonina Georgievna, also played musical instruments, painted, she was gifted by God. And she had no education, she worked at a factory. There were hard times. My father died when I, the youngest in the family, was barely five years old. Mom alone lifted us three guys. She, too, has not been with us for more than 30 years. "
From free Cossacks …
Emelyanov's maternal lineage originates from those first free Cossacks who came to Siberia with Ermak's retinue. The ancestral cemetery in the Yenisei district, in Shil, covers an area of ​​more than 40 square meters.
The craving for a deep study of history, and perhaps the call of blood, pushes Valery Mikhailovich to write large historical paintings: "Bringing Brides to Krasnoyarsk", "Annexation of Khakassia to Russia", "Krasnoyarsk Shastost (1695-1698) Expulsion of the Voivode". The first picture in the 70s was banned by censorship and was removed from a personal exhibition in Norilsk. And the canvas, which captures the historical moment of the murder of the governor in the Krasnoyarsk prison in 1695, replenished the fund of the Minusinsk Museum of Local Lore. N.M. Martyanova.
And yet Yemelyanov is not offended by the excesses of the Soviet censorship. He believes that while he lived more freely as an artist, he felt his need. Then the slogans, visual agitation were put on a professional level, there was always a large amount of work for art workshops. In the modern world, everything can be done with the help of a computer, the need to maintain art workshops has disappeared.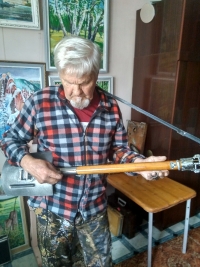 But technology is not capable of seeing the world through the eyes of an artist, painting it with his soul. On a walk in the autumn forest, Valery Mikhailovich will see an amazing crimson bush, a fabulous glade surrounded by birches, and tomorrow his native nature begins to come to life on the canvas. He will find a strange snag nailed to the shore by the waves, and his house will be decorated with a new work of art – a staff with a dragon's head.
But the artist needs exhibitions as an incentive to creativity, the master believes. "In order not to lose face, but with exhibitions it is difficult. You need finances to transport paintings, to pay for their safety. There are many works; in the last 20 years alone, according to rough estimates, more than 2 thousand canvases have been written. And I sold only a small part. He gave a lot of pictures to friends, acquaintances, just good people, donated them to museums and exhibitions. "
"I thought – I will not retreat"
"At the art school we had one very wise teacher. He said: "If you can not write, do not pick up brushes, do not do it. Write when you cannot live without craft ".
And when, at the age of 48, Yemelyanov experienced a severe heart attack and a long rehabilitation, he realized that "life can end in an instant, but I didn't have time to do anything." He says that he lived as if on a rough draft, saved up skill, impressions, ideas. "And he began to write excitedly. First, graphics in black and white, a series of works under the code name "Keeper of the Mind" – my view of the Universe, on faith. Then he began to try himself in seascape painting, wrote our Krasnoyarsk Sea. As an artist I am omnivorous, I work in different directions: as a landscape painter, a portrait painter, in the style of romanticism and realism, I love watercolor and oil. He began to comprehend the portrait technique in the 5th grade, from textbooks he copied Pushkin, Lermontov, Herzen. "
– What is your main character trait?
– Laziness as an engine of progress. While working at the plant, I tried to mechanize manual processes, but senior comrades made it clear that all progress has a flip side of the coin: people can be left without work as unnecessary elements of the production chain. Then he made a decision: from now on, all inventions are only for his own home. According to the drawings, he made lathes and carpentry machines, an apparatus for spot welding. In order not to sweep away the shavings in the carpentry workshop with a broom, he turned the old vacuum cleaner into a wind blower. I try to adapt all the outdated equipment, modernize it for economic needs.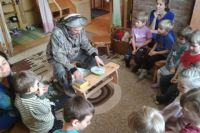 Once Valery Mikhailovich decided not only to paint the beauty of the Krasnoyarsk reservoir, but also to conquer it on his yacht. I calculated everything on 120 pages, built a yacht from scrap materials, registered and received permission to sail under the flag of Russia. The granddaughter became the captain of the family submarine.
"I am a stubborn person: if I have planned something, I will not back down until I have put all the ideas into practice. Unfortunately, not everything succeeds. Having moved to Krasnoturansk in 1976, he opened an art school, but due to circumstances it lasted only a year. There was no room, the second teacher was not given a place to live. There are many talented children, and whoever sees them until they are painted … It's a pity, "the artist regrets.
About happiness, muse and harmony
– Should an artist always be "hungry and poor" to create masterpieces? Is suffering as a form of meditation a prerequisite for creativity?
– Each artist is a separate person. There are people who can combine creativity and business. I never made a lot of money in my work, and there was no such goal. As long as I can remember, I have always painted. Everyone has their own muse too. My wife Lyubov Ignatievna has been with me for 50 years. She has her own talent – to create harmony of the hearth. Helps and supports me in all my endeavors. We raised two sons together, our pride. They did not become artists, although they have abilities. Both techies, but true creators in their field. Grandson Alexander, also the owner of an artistic gift, at the age of five independently mastered the perspective, at the age of six he became the owner of the diploma of the laureate of the regional art exhibition. Now he is engaged in computer graphics. Career is not the main thing for me, the main thing is family. Our house is not empty, children often come, grandchildren for vacations, friends, friends of friends – up to twenty people are there. Even in the difficult times of perestroika, when it happened that I was sitting without work, and the paintings were not bought, because people simply did not have money, guests came to us from everywhere. The main thing is the warmth of the soul, and the rest will follow.
– What is happiness for you? Are you a lucky person?
– Happy but unlucky. An acquaintance of mine, for example, buys lottery tickets for a third of his pension and always wins. Nothing has ever fallen from the sky to me, I got everything with labor. After school, I immediately went to work at a TV factory. After the army, he combined work with training at the Krasnoyarsk art school. The desire to devote himself entirely to creativity led to the Irkutsk Art School. After serving in the army, he continued his studies at the Krasnoyarsk School named after Surikov. By assignment, he ended up in Norilsk, then moved to the settlement of Talnakh, where he opened an art school that still exists today. There were many things in life – both victories and defeats. Only, I think, if you don't see the bad, you won't understand where the good is. Happiness for me is an amorphous, momentary concept. Maybe he was absolutely happy a couple of times in my life for 15 minutes, when good personal exhibitions were held. Real recognition is when what you write at the behest of your soul is still close to someone.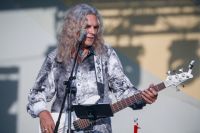 I am proud that I not only make my dreams come true, but also help my students. Children wishing to enter the faculties of architecture and art are asking for help. I give lessons. Children are talented and capable. There are simply unique workers. Lena Trudovishnikova, for example. She studied with me for less than one academic year and in this short period she mastered many professional skills. She entered and completed her studies with honors at the Academy of Architecture, trained in Italy. Now she has her own design studio.
For seven years he worked as a teacher of additional education at the House of Children's Creativity in the class of ship modeling, drawing, the basics of design and architecture. I love music, for many years I have been a constant member of the Sixth String creative club. If you look back, a lot has been passed, a lot has been done, there are plans and ideas for the future, and I am already 72 years old. Perhaps I am a happy person. Life is Beautiful and amazing…
.