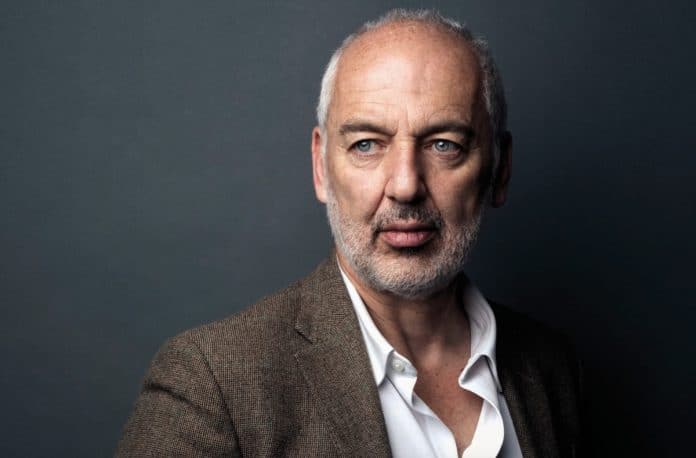 It is a work of art that is offered to the viewers of the rue de Courcelles and the Parc Monceau. Fixed on the back facade of the Guibor headquarters, the company created in 1988 by Dominique Romano, seems to deliver both the key to his success and the secret of happiness as he sees them.
In neon letters reminiscent of the New York City of her early trading floor adventures, she takes up like a mantra the famous quote made famous by Montgomery: « Whenever you see the sun reflexted in the window of a building it is an angel », which could give in French "Every time you see the sun reflecting on the facade of a building, tell yourself it's an angel". It is by following this advice that Dominique Romano became, and has never ceased to be, a visionary entrepreneur, that is to say someone capable of seeing the angel behind the reflection, the grace behind gravity. , and the rebound behind the fall.
On his own, he has defied Newton's three laws since his beginnings: the principle of inertia when he guesses that an indicator in free fall will start to rise again long before reaching the ground; the principle of dynamics, when it relies on a company whose strength is due more to its acceleration than to its mass; the principle of action – reaction, when it manages to release synergies between heterogeneous entities, even though they are not adversaries or enemies. At a time when financiers are finishing converting to mathematics and where algorithms are in charge of guessing the future, Dominique Romano remains on his first intuition which can be summed up in a single word: " human ".
The computer may beat man at chess or the game of Go, the data centers may think faster in a second than the whole of humanity in a century, the probabilities specialists may predict the future more effectively. he does not give up on visionaries: in the last resort, if he plays the right card at the right time, which is always his, that of his sincerity and his courage, man can win against the machine.
Of course, he can also lose, and Dominique Romano accepts it with a smile: "Blows, I took; catastrophes, I have known; but victory is never as beautiful as when we have come close to defeat ". This is what he repeats to the young people from the cities who come to see him because they know, by a mysterious word of mouth, that he has a predilection for these entrepreneurs who have come up against closed doors, and for all these projects that were never to see the light of day. It is when no one has taken the time or had the courage to give his trust that he places his bet, and to believe him, he has "Often won economically, and always won in human terms".
It must be said that Guibor's success pleads for him. While the captains of French industry view the Internet as a dead end or a dancer, and the nascent e-commerce is considered by financial circles as a bubble, it is investing in Vente-Privée.com, then valued at 2 million euros. euros. When he resells his shares, less than a decade later, the company weighs in at 1.5 billion euros and his name is mentioned everywhere to celebrate the « miracle » e-commerce. "From dead end to miracle, there is only one way, and it is short and direct for those who have mastered the art of turning around" continues with a smile the one whose motto could be "all daring. honor " and which never ceases to encourage the younger generations to dare against all odds.
He is also the first to show them by example. When two young people of Russian origins come to find him offering to disrupt the very old school repair market, he is not long in being convinced. He tries a few rhetorical objections, but he sensed it within minutes: "These two have". He multiplied their ideas by his own, Guibor financed them to the tune of 120,000 euros, and a few years later, it was Engie who put 21 million euros on the table to secure the services of a company – solution to at the same time humble, agile and formidably efficient.
Crazy bets!
A recognized figure in investment banking recognizes this: "It is when he thinks against the evidence that he is the best", while adding, not without perfidy, "But sometimes his bets smell of powder", to which the interested party answers tit for tat: "I know the smell of powder very well, and it is none of my business". He will not say more about his military involvement in an anti-terrorist unit of the Israeli army where he very officially serves as a reserve non-commissioned officer – but on theaters of operation where it is impossible to soldier to stay on his reserve, and where he says "Relearn the fundamentals of the human being every time".
It is not surprising that this alchemist, a past master in "the art of turning around", finds peace in a land inhabited by crisis and haunted by war. He also applies the main principles that govern his entrepreneurial philosophy: "Observe, smell, guess, bet". It is in this spirit that he invested in real estate in Tel Aviv in the midst of the Intifada, buying at 1000 euros per square meter what is currently selling for around 15,000 euros per square meter. "Instead of letting myself be influenced by circumstances, I stopped at a simple truth that every Jew can feel deep inside him or her: this land is holy, therefore it is priceless".
There is indeed in this man " here and now " a real fascination with what is old, authentic and laden with memory. It is she who connects investments as different as the Church of Saint Rita in Paris and the first cinema in the history of Georgia in Tbilisi; a building located in old Jerusalem and the restaurant La Pérouse in Paris where demi-mondaines carved ex-votos on mirrors using the diamonds that their services had earned them; the commercial court of Provins and the funicular of Montmartre. "I like exceptional places where memory is omnipresent, but where it leaves a part of choice to the present and the future", he replies to those who blame the real estate heritage of Guibor for having been built without a long-term vision, due to opportunities.
The art of turning
"Opportunism is not a fault when it opens the door to the best", he reacts when confronted with the judgment of his detractors who finally say with their unfriendly words ("It goes all over the place") what he is the first to recognize ("I invest as I live: 100 percent and 360 degrees"). And we must recognize that more often than not the future proves him right. By installing Benjamin Patou in La Pérouse, he revived and once again flamed a high place of festive Paris which was extinguished in general indifference. By inventing the largest Russian restaurant in Europe with Laurent de Gourcuff, in the very heart of an address that is both Parisian and universal, at 59 avenue Poincaré, in the former Alfred Nobel hotel.
By transforming the commercial court of Provins into an artistic coworking, it was one of the first economic players to engage in the rescue of downtown neighborhoods in municipalities with a strong heritage identity watched over by museumification. By creating a digital theater and a Food Court in the heart of the district of «Cinema City» in Tbilisi, he prevented memory from stifling life and the city steeped in history from becoming a ghost town. When he evokes these imprints in the stone, born of his "Art of reversal", Dominique Romano seems to arise. Its flow subsides and the passion to convince gives way to the need to share. This is because we are touching here on a constant but largely dead preoccupation: that of fertility and posterity.
For this father of five, nothing is more important than transmission, and everything that is won is intended to be shared. We are then very far from « serial entrepreneur » chaining the "Blows", and it is a father who talks to us about what he wishes to transmit about himself to his family, to those he loves, and to all those he does not yet know but is certain to meet one day or the other. It is very difficult to snatch the slightest confidence from him about his charitable commitments as numerous, heterogeneous and passionate as his investments. At most, we will learn that he wishes to welcome free once a month, to Saint Rita and in her honor, an association in charge of a desperate cause. As if he were inhabited by the superstition that the good we do turns into bad the moment it is known, it assumes to stay "Not discreet but secret" on the support he brings to "Just causes small and large, near and far, always human".
It is then that he operates in the conversation one of these reversals in the art of which he is a past master, and launches into the inventory of the next adventures of Guibor: "Kibana," the hotel in the world after dreamed of with Ava, an exceptional young entrepreneur " ; blueberry cultivation "A little nutritious miracle that will do good to humanity" ; tourism in Georgia "If only to allow everyone to have seen once in their life the most beautiful painting in the world" a starry sky of the Caucasus " ; the Amaury group, whose development in Russia he supports "Where there is room for entrepreneurship and where the French remain very popular" ; the Med-Tech "With a revolutionary chemo that works like a targeted strike" ; a network of start-ups in Seine-Saint-Denis "The most beautiful deposit of valuer in France " ; and other adventures to come, dreamed, thought and experienced as so many battles against the overwhelming dominant thought of the market.
A second chance for all
All these fights, Dominique Romano does not intend to lead them alone, but with "Those who haven't had their chance, those who don't know they have a chance, and even those who don't even know that there is something called luck". This is what makes him this "Extraordinary entrepreneur" and this "Extraordinary man" about which Patrice Bégay, the charismatic executive director of Bpifrance excellence, speaks before evoking with a dreamy air "A gps tuned to the future which is always heading today towards tomorrow". Indeed, with Guibor, Dominique Romano seems to rush into the future as if he risked arriving late on his bet, or being sown by his own intuitions.
Also, is it not the least of the paradoxes to hear this man with the rapid flow, with the mobile gaze, who gives the impression of being a secret agent on a mission or a fugitive, evoking finally the « slow-prenariat ». Listening to her talk about "Man as the cardinal value of the company", of a "Economy where value would be indexed to man as at one time currencies were indexed to gold", of a "Society of which each human being is the center of gravity", we think of a Jason Bourne who would have permanently shattered the CIA and who would enjoy life on a distant beach.
We also think of the luminous key that this secret man has chosen to display as a motto on his building, and which invites us to see an angel each time our gaze meets the reflection of the sun in the city. If Dominique Romano has lived for so long with "The company in the skin", it is not like a demon, nor a fatality, nor a curse – it is like a beating heart in love with living, creating, loving and sharing. An entrepreneur at heart as we like them!
Henry Marin