Among the at least six fatalities is a 14-year-old. The people in the parishes of Vernon, Jackson and Acadia were killed by falling trees, said the governor of the state of Louisiana, John Bel Edwardsdie.
"Only" still a tropical storm
A chemical plant in the town of Lake Charles caught fire and thick smoke rose. Local residents were asked to stay in their homes. In Louisiana and Texas, more than half a million people were without electricity on Thursday morning, according to the PowerOutage.us website.
"Laura" has since been downgraded to a tropical storm, but according to the National Hurricane Center (NHC), the flooding on the Gulf Coast continues to pose a threat. The water could penetrate up to 65 kilometers inland and only return days after the storm passed through. In addition, tornadoes and heavy rain were expected.
The windows of this skyscraper in Lake Charles, Louisiana were destroyed by the storm
With wind speeds of up to 240 kilometers per hour, "Laura", a category four cyclone, reached the US coast between Houston and New Orleans in the early hours of the morning. First, the hurricane hit the small town of Cameron, as the NHC announced. In Lake Charles, about an hour's drive to the north, the storm crushed the windows in a 22-story building. Footage of bent traffic signs circulated on social media. Debris from destroyed houses could be seen in the flooded streets. The highway that connects Louisiana with Texas and Mississippi was closed near the burning chemical plant.
Help for hurricane victims
The White House also emphasized that "Laura" was still dangerous and could lead to "devastating storm surges, destructive winds and flash floods". President Donald Trump has promised to use all the necessary resources to help those affected, it said.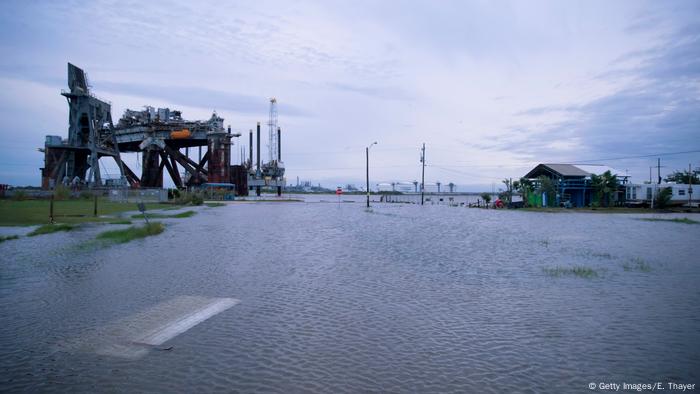 Cyclone Laura caused flooding in Sabine Pass, Texas
The authorities had issued an urgent warning of the storm. Evacuation orders in Louisiana and Texas have asked around 620,000 people to leave their homes. However, according to the authorities, many did not comply and stayed in their homes.
A ghost town, however, was Port Arthur, Texas, where there are several oil refineries. In the past, hurricanes like Harvey and Katrina have wreaked havoc on oil industry sites on the Gulf Coast. Almost half of the United States' oil refining capacity is located there. When Harvey struck in 2017, there were oil and chemical spills, as well as heavy air pollution from petrochemical plants and refineries.
On its way to the northeast, the storm is expected to reach the state of Arkansas next on Friday night. The storm previously killed at least 25 people in Haiti and the Dominican Republic. "Laura" also caused serious damage in Cuba. In the Gulf of Mexico, more than a hundred oil platforms have been cleared as a precaution.
ust/uh (dpa, rtr, ap)
.