Original title: Colonial Pipeline said all business after the ransomware attack has returned to normal Source: cnBeta.COM
Colonial Pipeline said on Saturday that all of its systems have resumed normal operations, including the pipeline that was closed due to a ransomware attack a week ago.The company said on Twitter that the pipeline now serves all of its markets, including Texas, Louisiana, Mississippi, Alabama, Tennessee, Georgia, South Carolina, North Carolina, In Virginia, Maryland, Washington DC, Delaware, Pennsylvania, and New Jersey, Colonial Pipeline transports 45% of the fuel supply to the eastern United States.
According to reports, the company paid a $5 million ransom to the DarkSide cybercriminal group responsible for the incident. Since then, DarkSide apologized for the "social consequences" of the attack, which caused fuel shortages in many markets served by the 5,500-mile pipeline.
It is still unclear which parts of the Colonial Pipeline are threatened, but a spokesperson for the company said that the company's operating system does not appear to be affected.
Colonial Pipeline said on Twitter that it has made "meaningful" investments in its IT and network security, and said it will "continue to put security and system integrity first."
According to CNBC reports, many markets served by the affected pipelines still have fuel shortages; according to reports, as of Saturday morning, 80% of the gas stations in Washington, DC still have no fuel to provide.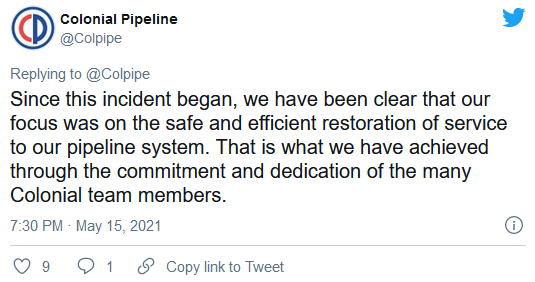 <!–
  声明:新浪网独家稿件,未经授权禁止转载。
–>