Artistic note: (5/5)
Synopsis
At the end of the 19th century, Catherine Sloper lived in a wealthy mansion in Washington Square, the "beautiful neighborhood" of New York, in the company of her father, Austin Sloper, widower, wealthy and tyrannical. The young girl, shy and without great attractions, meets the attractive Morris Townsend during a ball. The young man immediately pays her an eager court …
• Titre original : The Heiress
• Support tested: Blu-ray
• Genre: drama
• Year: 1949
• Director: William Wyler
• Casting : Olivia de Havilland, Montgomery Clift, Ralph Richardson, Miriam Hopkins, Vanessa Brown, Betty Linley, Ray Collins, Mona Freeman
• Duration: 1 h 55 min 21
• Video format: 16/9
• Cine format: 1.37 / 1 Black and White
• Subtitles: French
• Sound tracks: DTS-HD MA 2.0 monophonic English
• Bonus: combo with the Blu-ray and the DVD of the film – reversible cover – booklet "L'Héritière: Home Alone – Trop beau pour toi" written by Stephen Sarrazin (16 pages) – the film by Fréderic Mercier (29 min 24 ) – vintage trailer (2 mn 57) – In the same collection: Nazarin (1 mn 39) – Secret ceremony (2 mn 20)
• Publisher: Elephant Films
Artistic commentary
The works of Henry James, one of the greatest American writers of the 19th century, have often been adapted for film and television. Cinephiles remember the superb version of Jack Clayton Innocents (1961) and the trilogy devoted to him by James Ivory: Europeans (1978), Bostonians (1984) and The Gold Cup (2000). In 1949, William Wyler, a major filmmaker of the 1950s and one of the few to have the Final Cut (cf. bonus), realizes The heiress based on the play by Ruth and Augustus Goetz "Washington Square" (1947), version written for the stage of the novel by Henry James published in 1880. The film, now a classic, will collect four Oscar for its actress (Olivia de Havilland), his music (Aaron Copland), his artistic direction (Harry Homer, John Meehan and Emile Kuri) and his costumes (Edith Head and Gile Steele). Like most of her works, the complex novel by Henry James, inspired by an anecdote told by one of her friends and for which "Balzacian realism" still operates, is not very easy to adapt. However, in addition to the play and the version of William Wyler, it will still inspire an opera by Jean-Michel Damase (1974), a French television film by Alain Boudet (1975) and a feature film by Agnieszka Holland (1997). The heiress was originally commissioned by Olivia de Havilland (who, aged 104, passed away on July 26, 2020), already an Oscar winner in 1947 and who wanted by seeing the play on Broadway that William Wyler la directed. A choice that will pay off since the director will consolidate his immense talent as an actress on screen, by playing Catherine Sloper, against the big names around her: Sir Ralph Richardson (Dr. Austin Sloper), Montgomery Clift (Morris Townsend) and Miriam Hopkins (Aunt Lavinia Penniman). The filmmaker was a formidable director of actor even if he was also the champion of supernumerary takes (the actors of Ben-Hur in 1959 know something about it)! Wishing Errol Flynn who refuses the role of Morris, William Wyler will compose with Montgomery Clift, already star and who later will declare himself dissatisfied with the film, by granting the character to the quirky and enigmatic play of the actor: very imbued with his interpretation, he incidentally turns out to be ideal. The film, superbly photographed by Leo Tover, is shot entirely at the Paramount studio in Hollywood: most of the scenes are set indoors, but a few wide shots of exterior sets have that fictitious charm characteristic of filming in artificial sets. Cradled by the music of Aaron Copland, who embroiders on the song "Plaisir d'amour" by Jean-Paul -Égide Martini (1784), The heiress is an actor film. The presence of Ralph Richardson, an admirable doctor but an intractable and selfish father, is striking: he monopolizes the space to the point that the director has to play with framing and editing to prevent him from swallowing up the plot! Finally in a very complex role, Miriam Hopkins excels at shaping the contradictory facets of her character of Aunt Lavinia, sometimes accomplice, sometimes lucid. If the staging of the drama is very classic, William Wyler admirably succeeds in translating the psychological issues of the novel and the play on screen by subtly characterizing each character: he thus polishes the gradual change of Catherine who, trapped between a father who despises her and a lover who manipulates her, will transform himself from the state of an obedient girl who is demeaned to that of a wealthy and conscious orphan who seems to have lost all humanity. William Wyler's film ultimately leaves a strong impression on the sophisticated game of observation that is established between the characters and on that which exists with the spectator because many uncertainties remain after the final shot (in full action ). It is up to everyone to interpret, according to their sensitivity, the attitudes of the protagonists and to give meaning to the plot: by refusing to clarify the behavior of each other, The heiress is an ambiguous drama that leaves the door open to discussions. A very great movie. If technically the blu-ray is impeccable, we regret, despite the relevance of Frédéric Mercier's subtle analysis, the lack of the many exciting bonuses present on American blu-ray (interview with Olivia de Havilland and Ralph Richardson, subject on William Wyler and Edith Head, etc…).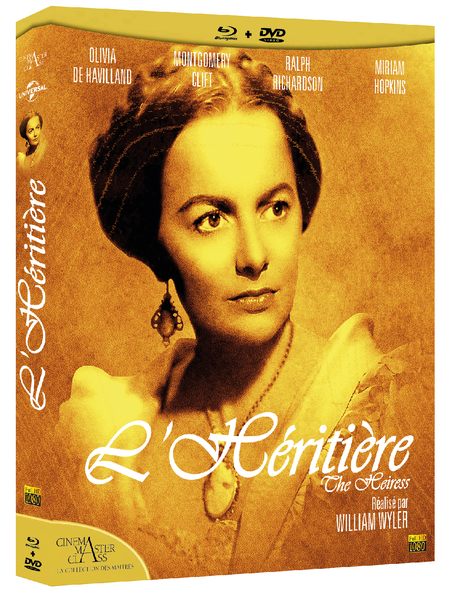 Technical comment
New 4K digital transfer made with a Lasergraphics Director scanner at Roundabout Entertainment in Burbank, California from a 35mm duplicate negative. The countless defects (dirt, debris, scratches, seams and deformations) were manually removed using MTI's DRS software. Digital Vision's Phoenix software was used to manage jitter, flicker, small dirt, grain, and noise. The original monophonic soundtrack was restored in 2006 by NBC Universal Studio Post Audio Operations from a 35mm variable density positive optical soundtrack. An additional restore was performed for this version with Pro Tools and iZotope RX.
Image : HD copy, new master restored HD, remarkable definition, surgical sharpness, homogeneous silver grain (shooting in 35mm Eastman Plus X), stable and cleaned image, almost without any defect, superb contrast with deep blacks which restores the beautiful photography and the lighting suggestive of Leo Tover, tiered grays, nuanced whites
Son : English mix 2.0 monophonic, clear and balanced dialogues, no saturation or distortion, excellent dynamics, slightly limited top of the spectrum
Our opinion
Image :
(5/5)
Sound mixing:





(4/5)
Bonus :


(3/5)
Packaging :





(3/5)
IMDb : https://www.imdb.com/title/tt0041452/
Blu-ray / DVD and DVD combo available on Amazon
Other articles that may interest you on ON-mag and the rest of the web
---
.